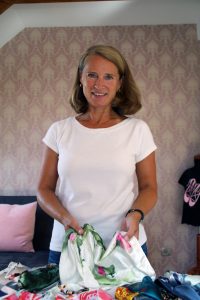 May I introduce myself? I am Sibylle Till, the founder of the 17:35. Born in Hannover I moved to San Diego after highschool and in the following years to Munich, Hong Kong and Leipzig. At the moment I live in Graz, Austria, with my family, where I founded the label the 17:35 in 2019. My enthusiasm for fashion, special designs and high quality fabrics brought me to the idea of producing a luxurious scarf made of cashmere and silk. Of course I also had in mind to wear such cuddly scarves myself!
The search for the right materials was very exciting. First, I contacted different cashmir manufacturers around the world and selected "the right one", primarily based on their finest quality and colours. I really wanted to select the silk myself on site in Hong Kong and Guangzhou. Overwhelmed by the high quality and design variety I picked ten different fabrics.
However, I still needed a textile factory to sew the cashmere and silk together professionally. After friendly conversations and an impressive tour of the factory I decided for a Styrian company, just 35 kilometers outside from Graz – and that`s why the scarf can be considered as MADE IN AUSTRIA. It feels good to know the working conditions in the factory, to reduce transport costs, to support the domestic economy and, above all, to benefit from the high quality of manufacturing.
I'm delighted with the first scarf collection of the 17:35 and hope for many satisfied customers.